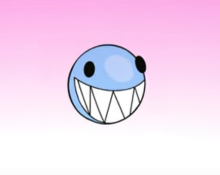 When you open the Amazing Digital Circus, you will first see its main antagonist – Caine, the artificial intelligence. But he is not the only one. This hero has an assistant – this is a soap bubble. But this Bubble is live! You cannot tell much about his appearance – as it is all about a huge grin with big teeth! And of course, he has eyes – these are just two black beads. This cute personage lives inside Caine's hat. But it is enough for the ringmaster to call him, and Bubble is here! The creature is mischievous and funny at the same time. Are you fast enough to follow him everywhere? It's going to be a funny challenge!
This character can respawn!
It is a very interesting characteristic of Bubble. Sometimes, he does not justify the expectations of Caine. And in such cases, Caine simply pops him to get rid of annoying bubble. However, it works only temporarily. The personage can respawn with no problem and he successfully does it every now and then. Actually, Bubble is full of energy and gladly accepts all the tasks from his master. You will see this personage in a lot of scenes where he is actively trying to participate. Will Bubble take the side of the characters locked in this evil circus? Or will he follow all the commands of Caine? This is what you need to find out during several engaging episodes. So it is time to get to know lovely Bubble a bit better. Dive into this cool comedy – you will enjoy it!