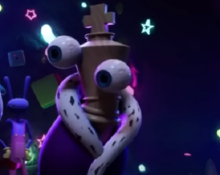 Kinger is a royal chess piece of alder color. This character has white arms that are separate from his body. He also has two round realistic looking eyes. They are irregularly spaced on the face. The character wears a purple royal cloak with a white fluffy lining. There are dark brown spots on the clothing.
Character
The character is an eccentric paranoid. He is incapable of doing brave deeds. It is believed that Kinger went crazy while working in the circus. This is evidenced by some of his behaviors. For example, he often acts haphazardly. The protagonist often forgets about the people who are near him. He can be frightened of those who are around him. The character is 48 years old and is considered the longest-lived character in The Amazing Circus. He may have arrived in virtual reality first. Jax believes that it is Kinger who is the most psychologically unstable of all. It is also speculated that this character would be the first to become abstracted from the world around him due to his paranoia.
The character's hobbies
Kinger had a pillow fort that the protagonist called his "impregnable fortress." It was a place where he hid to protect himself. This was a consequence of his developing paranoia. It is worth noting that the character is interested in insect collections. One day he even tried to look out of his own pillow fort, as he heard someone start talking about insects. Kinger is not alone, as he had a queen chess piece next to him.