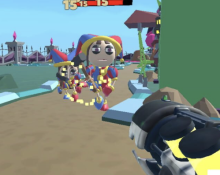 "Digital Circus Shooter" is a fun and addictive first-person shooter, made in the style of the animated series of the same name. Here you will meet many characters from the series, which will act as opponents. Thanks to a large selection of weapons and other improvements, you will be able to effectively resist the crowds of opponents, constantly attacking you from different sides.
What do you have for defense?
In the game "Digital Circus Shooter" there are several types of weapons. You start with an ordinary machine gun, which is quite enough at the first levels. For kills, the player receives money, which can already be spent in the internal game store. There you can buy a shotgun, plasma cannon, magic wands, magic staffs and other weapons. Each weapon has its own price and the more expensive you buy, the more powerful it is. In addition, you can buy circus keepers, who will help you fight with enemies. They find and destroy enemies themselves, but they don't have so much health that they can completely replace the main player. You can buy up to ten helpers, which will come in handy in the later stages.
Who will enjoy the game?
"Digital Circus Shooter" will interest both fans of shooters, as the basic components of gameplay, such as movement, shooting, changing weapons, are well developed here. At the same time, the game will interest fans of the series, as you will meet many characters from it.