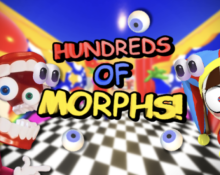 "The Amazing Digital Circus Roblox" is a bright and interesting game in the platformer genre. Multiplayer mode is present here. Events and scenery, as well as features of the design style, are taken from the original animated series. The game is based on the Roblox platform, which creates certain nuances of movement and multiplayer. Also here you can use the internal game currency to buy costumes and other items that are used in the game. During the game you will be immersed in amazing adventures and extraordinary transformations. You are opened almost all the gore of the series, which will make the passage more diverse and interesting. Gameplay from the change of characters practically does not change.
What can I do in the game?
While passing the game "Amazing Digital Circus Roblox" you will find yourself in an unusual atmosphere of humorous absurd cartoon series. A whole world is open to you to explore, find items and perform various tasks. You will find yourself in the same places where the main character of the cartoon series visited. During your travels you will collect a variety of spheres and earn points. In the digital circus you will definitely meet your favorite characters and you can play as one of them. All reincarnations are cosmetic in nature, so the experience you have gained will not be lost when you change the hero.
Extraordinary environment
The original atmosphere and bright design of the series is perfectly conveyed in the game "Amazing Digital Circus Roblox". The creators tried to recreate the locations and appearance of the heroes, as well as endow the characters with their own features. This is a really interesting adventure for fans.