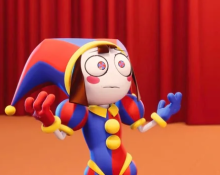 Are you seeking for endless fun? Then you need to enter the Amazing Digital Circus, an unforgettable adventure that will leave a lasting impression. It is a comedy story with enough black humor and lots of unexpected twists. Are you prepared to delve into this weird world? One thing is sure – you will never be able to predict what will happen next. And this feature makes this show really enjoyable!
Who are all these characters?
Let's delve into the story behind it all. You will see a group of humans who found themselves in a strange place. But they do not look like humans at all! Instead, they have transformed into peculiar-looking toys. No one can clearly explain why they are here. Maybe they have just run away from their personal struggles. Now they should adapt to a new reality. Caine, the host of this realm, along with his cute assistant Bubble, will challenge their survival skills in the most unusual ways. However, do not worry – none of them is going to die in these thrilling twists. Instead, they emerge with remarkable experiences from their trials.
Will anyone escape?
The characters will differently react to being imprisoned in this strange circus. Their roster includes Pomni, a young woman in the form of a toy jester, Ragatha, an ever-optimistic ragdoll, and Jax, a peculiar purple rabbit. Among the remaining cast, you'll find Kinger, Gangle, and Zooble, each representing peculiar entities – a white chess king, a theatrical tragedy mask, and a geometric figure, respectively. Pomni is the one who is determined to run away. But it will be a long path, full of fights and misadventures.