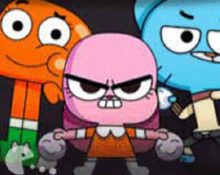 The enemies are coming, and your fortress is under siege! Can you fend them off and make sure they don't pass? Put your general's hat on, get your ballistas set up and your troops together. It's tower defense time!
Hold down the fort, Gumball-style!
Snow Stoppers ain't your everyday "stick a tower somewhere" kind of game. It's a full-blown tactical masterpiece. Picture this: waves of pesky enemies are swarming in, and you're the commander-in-chief. Your job? Place your characters like they're chess pieces, but instead of kings and queens, you've got the wacky and lovable cast of Gumball by your side. They've got your back, and you've got theirs!
At the start of this epic showdown, it's just you and Gumball against the pixelated world. But as you wade through the battles, you unlock more characters – your dream team is getting bigger and better! Place them in just characters in just the right spots to create a symphony of enemy destruction. And if any sneaky foes manage to slip past, no worries! You can move your characters around to catch those escape artists. With 15 thrilling levels and each one featuring a unique map and baddies that get progressively harder, you'll be in tower defense heaven. So, are you up for the challenge?